El Grupo de Trabajo del Arzobispo de Canterbury prepara un tiempo de oración y arrepentimiento

Posted Mar 27, 2018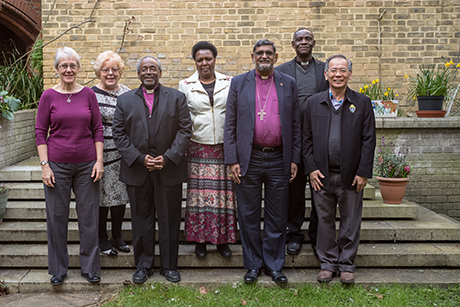 El Grupo de Trabajo creado tras la Reunión de los Primados de 2016 ha presentado las propuestas iniciales para un tiempo de arrepentimiento y de oración en toda la Comunión Anglicana. Este tiempo tendrá lugar desde Pentecostés hasta finales de 2019, y para su lanzamiento se difundirá una oración especial.
El Grupo, reunido esta semana en Londres, anunció que este tiempo se centrará cada semana en una provincia determinada. La oficina de la Comunión Anglicana preparará y distribuirá el material de apoyo para este tiempo.
El Obispo Ian Ernest del Océano Índico, a quien se le encomendó la presidencia de la sesión de esta semana, manifestó que este tiempo de oración y arrepentimiento sería el regalo de la Comunión a un mundo de dolor.
«Nos damos cuenta de las dificultades, y esto causa dolor. El mundo conoce la ruptura. La Comunión Anglicana también ha tenido sus problemas y sus rupturas.
«Así pues, nuestra respuesta es: creemos firmemente que la oración nos ayudará a crecer y a amar a pesar de nuestras diferencias. Creemos firmemente que nuestras diferencias no tienen por qué conducirnos hacia el odio, sino que la oración puede ayudarnos a sanar allí donde las relaciones se hayan deteriorado.
«Sabemos que estamos llamados a ser instrumentos del amor y de la misericordia, de la justicia y de la verdad.»
El Grupo de Trabajo fue creado en enero de 2016 por el Arzobispo de Canterbury a petición de los Primados. Su cometido es restaurar relaciones, restablecer la confianza y la responsabilidad mutua, sanar el legado de dolor y explorar relaciones más profundas. Presentó un informe provisional sobre el trabajo realizado hasta la fecha en la Reunión de Primados de Canterbury de octubre del año pasado.
El Obispo Ian mencionó que en estos momentos el grupo está preparando acciones concretas que reflejen su mandato de ayudar a la Comunión a «caminar juntos» a pesar de las diferencias. También expresó su confianza en que este tiempo de oración contribuirá a generar un mayor impulso con vistas a la Conferencia de Lambeth de 2020.
El grupo declaró que su oración por la Comunión se había hecho y continuaría haciéndose eco de la oración de Cristo, «para que todos sean uno […] para que el mundo crea […]», y para que la unidad, la vida y el testimonio del grupo «se esfuerce en hacer la voluntad de Cristo».
---
The Group's membership is drawn from across the Anglican Communion:
Richard Clarke
Archbishop of Armagh and Primate
Church of Ireland
Michael Curry
Presiding Bishop and Primate
US-based Episcopal Church
Ian Ernest
Bishop of Mauritus
Province of the Indian Ocean
Philip Freier
Archbishop of Melbourne and Primate
Anglican Church of Australia
Moon Hing
Bishop of West Malaysia and Primate
Province of South East Asia
Elizabeth Paver
Former vice-chair of the Anglican Consultative Council
Church of England
Rosemary Mbogo
Provincial Secretary
Anglican Church of Kenya
Linda Nicholls
Bishop of Huron
Anglican Church of Canada
Paul Sarker
Bishop of Dhaka and Primate
Church of Bangladesh
and Josiah Idowu-Fearon
Secretary General of the Anglican Communion.