Zimbabwe Anglicans to Mothers' Union: 'We resource our own change'

Posted May 21, 2014
[Anglican Communion News Service] Mothers' Union leaders from around the world are this week meeting in Zimbabwe to learn how Anglicans there use the Community and Church Mobilisation Process (CCMP) to positively transform themselves and their communities.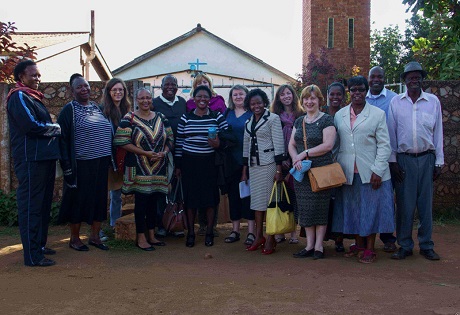 The team of thirteen drawn from various countries including the United States, the United Kingdom, Tanzania, Kenya, Zambia, Zimbabwe, Botswana and South Africa began the tour of the Diocese Harare on Sunday, May 18. It will end on May 23.
Juliet Ross, a Trustee and Coordinator for the Action and Outreach Unit Committee in the Mothers' Union talked to ACNS soon after a tour of some of major CCMP sites in Harare.
She said: "I have heard so many moving stories about the Mothers' Union and CCMP from Zimbabwe.
"It's so dramatic what the program has done for the people here, and it seems the impact keeps growing from nothing to enormous. It's so inspiring to see how the people are open, caring and willing to share information and success stories with others," she added.
Lizzie Zimunya, the Mothers' Union Community Development Coordinator in Harare Diocese, has been instrumental in the success of the diocese's CCMP program.
She told ACNS: "This visit encourages us in Zimbabwe and helps us celebrate our successes. It also motivates many others willing to start the process in their own churches. This is also an indication that this programmis not only for Harare Diocese, because others are also willing to implement it.
Other members of the Mothers' Union team include the Worldwide Coordinators Programme Officer Robert Dawes, the Head of Action and Outreach Worldwide Nicola Lawrence, and the Worldwide Regional Development Officer, Hannah Taylor.
The Community and Individuals Fundraising Officer, Naomi Mardon is also part of the team, as is the representative from the Mothers' Union Literacy and Financial Education Program in South Sudan, Anne Gardner.
The team began by visiting three main sites within the city of Harare that are practicing CCMP including an old railway township called Rugare. Others included an old high-density suburb called Mabvuku and the farming town of Glendale on the outskirts of Harare.
CCMP as a community concept is inspired by the belief that poverty is a result of broken relationships between man and God, which can be restored through the word of God. It also challenges communities to build relationships, identify their own problems and to discover how they can use the readily available resources to address them.
It was only November 2012, when Zimbabwe Anglicans were able to reclaim the churches and other properties taken from them by a renegade bishop and his supporters.
"The problem of being in exile for our parish as well as the rest of the diocese made it difficult to bring back God's flock. The youths were confused and did not understand why they could not worship in their own churches," explained the Parish Priest of St Christopher's Anglican Church in Rugare, the Revd Fresh Chamalenga.
"But through CCMP we were able to bring about unity and become one community which cares for one another. Using youth-friendly methodologies such as poetry and drama has made it possible to reach especially the young people in our community," he said.
From the discussions, which the team had with the local CCMP participants, it was clear that this program has greatly impacted the various communities. Members from Mabvuku community, where St James Anglican Church is found, explained how they are usually faced with the challenge of water shortages, and how quarrels over sharing the little available water were once commonplace.
"CCMP has helped us in the fair distribution of work as well as resources," said a local parishioner, Charity Matsiwe. "We challenge people in our community to help from as little as they have. We also teach communities how to love and care for each other and let them understand how to best help each other with the little available resources."
A CCMP Facilitator from St James, Moreblessing Ruhukwa also made it clear that many other human resources such as mechanics, electricians and teachers can be put to good use for the Church.
At a time when many other poorer communities look for outside help to address their local challenges, CCMP is reminding Christians of the many resources that are already available to them like water, soil and human resources and how they can be put to good use within the community.