Wales says 'yes' to women bishops

Posted Sep 12, 2013
[Anglican Communion News Service] One year from today, women priests can become bishops in the Church in Wales.
The historic decision to allow women bishops was made Sept. 12 during a meeting of the church's Governing Body in Lampeter, Ceredigion.
The bill that came before the meeting was a modified version of the one that was narrowly voted down in 2008.
The modification proposed that, were the church to vote 'yes' to women bishops, a second bill dealing with provision for those opposed to women bishops would be considered before any women were elected to the episcopate.
This would have delayed the election of women bishops in the province for several years.
The bill was amended, following a lengthy and passionate debate, to become a one-stage vote to enable the consecration of women as bishops, with a "code of practice" to be written by the bishops for those who in conscience could not accept the authority of women bishops. The amendment had been proposed by the Archdeacon of Llandaff Peggy Jackson and the Rev. Canon Jenny Wigley.
In the U.K., Wales now joins the Scottish Episcopal Church and the Church of Ireland in allowing women bishops, although none have been elected to date.
The members of the Governing Body meeting spent several hours in debate. At about 3 p.m. it looked as if they were going to vote on whether to pass the amended bill. However, the group voted instead to continue the debate.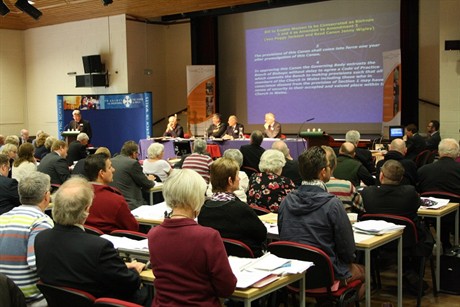 People around the world were able to follow the highlights of the debate on the Social Media microblogging site Twitter using #govbody. Comments came from people inside and outside the meeting in English and also in Welsh.
When the church finally voted on the amended bill at 4.50 p.m., the following votes were cast:
Laity – For 57, Against 14, Abstentions 2.
Clergy – For 37, Against 10, Abstentions 0.
Bishops – Unanimously For.
To date there have been 33 women bishops in the Anglican Communion. Twenty-four are either in post or are bishop-elect.
The latest election of a woman to the episcopate is Helen-Ann Hartley, an English priest who will become a bishop the Anglican Church in Aotearoa, New Zealand and Polynesia in early 2014.
With today's decision, Wales joins Bangladesh, Brazil, Central America, Hong Kong, Ireland, Japan, Mexico, North India, Philippines, Scotland, Sudan and Uganda as provinces that permit women bishops but have not yet appointed any.
Those provinces or 'extra provincial' churches or diocese with women bishops include Aotearoa, New Zealand & Polynesia; Australia; Canada; Southern Africa; United States and Cuba (an extra-provincial diocese).